Already in 1998 the idea to build a collective biogas plant came up in the region of Redange. In 2000, 29 farmers have joined in a cooperative and assigned L.E.E. s.à r.l. for the whole project development including the engineering services.
The following advantages were reached by the biogas plant:
Production of renewable energies by using locally available biomass and creation of local added value
Reduction of the mineral fertilizer needs
Possibility to integrate a closed nutrient cycle
Improvement of the liquid manure concerning the effect of fertilizer and the sanitary status
Reduction of the nitrate concentration in the drinking water thanks to an adapted material flow managment
Climate protection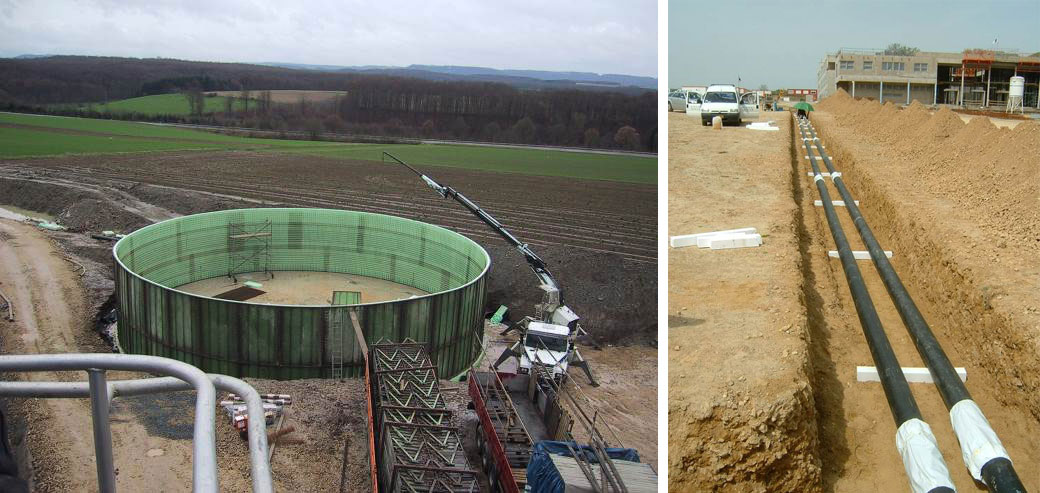 A local heat network supplies a public swimming pool, a high school, a sports hall and a supermarket with thermal energy from the biogas plant. On balance 700.000 liters of fuel can be substituted with the biogas plant.
Thanks to an adapted material flow management and an optimal organic fertilizer quality, the biogas plant contributes actively to the protection of drinking-water and the whole environment.
Basic information

Name of the legal entity:

L.E.E. SÀRL

Country:

Luxembourg

Project value (EUR):

6.000.000,-

Staff provided:

6

Client:

Biogas un der Atert S.C.

Origin of fundings:

private

Dates (start-end):

2000 - 2006
Input biogas plant

Organic waste:

32.600 tons/year (liquid manure, solid manure)
Energy crops:

15.000 tons/year (corn, maize, grass, sunflowers)
Organic waste:

5.000 tons/year (greenery waste, agro-industrial waste)
Technical Data


Technology employed:

Biogas (anaerobic digestion)

Total reactor volume:

9.600 m³
Technical Data
biogas plant


Biogas production:

4.500.000 m³/year

Installed electrical capacity:

CHP: 1,7 MWel. (5 different units)

Annual production of electricity:

11.000.000 kWhel/year

Installed thermal capacity:

CHP: 1,8 MWtherm
Fuel and biogas burner:

(peak-production)

1.000 kWtherm

Annual production of heat:

12.000.000 kWhtherm/year

Process heat consumption:

2.900.000 kWhtherm/year

xternal use district heating:

6.000.000 kWhtherm/year

Length of the district heating:

1.200 m

Services provided

Project Planning:

Feasibility study
Mass and energy balance
Authorisation procedures
Call of tender

Engineering design:

Basic engineering
Detailed engineering
Financial engineering

Project implementation:

Supervision of construction
Start-up of the process
Operation over a period of 4,5 years